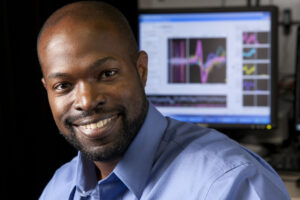 GRADUATE HONORARY DEGREE RECIPIENT
Kafui Dzirasa '01, M8
K. Ranga Rama Krishnan Associate Professor, Duke University
Chief Vision and Values Scientist, Collective for Psychiatric Neuroengineering
Dr. Dzirasa is an associate professor at Duke University with appointments in the Departments of Psychiatry and Behavioral Sciences, Neurobiology, Biomedical Engineering, and Neurosurgery. He completed a Ph.D. in neurobiology at Duke University, obtained an M.D. from the Duke University School of Medicine, and completed residency training in general psychiatry.
His research interests focus on understanding how changes in the brain produce neurological and mental illness and his ultimate goal is to combine his research, medical training, and community experience to improve outcomes for diverse communities suffering from neurological and psychiatric illness.
Dr. Dzirasa received the Charles Johnson Leadership Award in 2007, and was recognized as one of Ebony magazine's 30 Young Leaders of the Future in February 2008. In 2016, he was awarded the inaugural Duke Medical Alumni Emerging Leader Award and the Presidential Early Career Award for Scientists and Engineers—the nation's highest award for scientists and engineers in the early stages of their independent research careers. He was inducted into the American Society for Clinical Investigation in 2019, and the National Academy of Medicine in 2021. Also in 2021, Dzirasa was named a Howard Hughes Medical Institute investigator.
Dr. Dzirasa has served as an associate scientific advisor for the journal Science Translational Medicine, a member of the congressional-mandated Next Generation Research Initiative, the Editorial Advisory Board for TEDMED, and on the NIH director's guiding committee for the BRAIN Initiative.