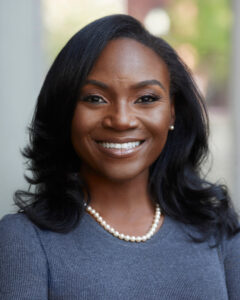 UNDERGRADUATE HONORARY DEGREE RECIPIENT
Kizzmekia Corbett '08, M16
Assistant Professor, Harvard University
Dr. Kizzmekia S. Corbett is an assistant professor of immunology and infectious diseases at Harvard's T.H. Chan School of Public Health, Shutzer assistant professor at Harvard's Radcliffe Institute of Advanced Study, and associate member of the Phillip T. and Susan M. Ragon Institute. She received a B.S. in biological sciences, with a secondary major in sociology from UMBC, where she was a Meyerhoff Scholar. She obtained her Ph.D. in microbiology and immunology in 2014 from the University of North Carolina at Chapel Hill.
Prior to Harvard, Dr. Corbett was a research fellow and scientific lead at the National Institute of Allergy and Infectious Diseases Vaccine Research Center. Dr. Corbett uses her viral immunology expertise to propel novel vaccine development for pandemic preparedness, including mRNA-1273, a leading vaccine against SARS-CoV-2. This vaccine concept was designed by Dr. Corbett's team and deployed to industry partner, Moderna, Inc., for clinical trials only 66 days from viral sequence release. Shown to be 94.1% effective, it is authorized for use in multiple countries. Dr. Corbett boasts a patent portfolio which also includes universal coronavirus and influenza vaccine concepts and novel therapeutic antibodies.
Dr. Corbett has over 15 years of experience studying dengue virus, influenza virus, and coronaviruses. She has received several prestigious awards, including the Benjamin Franklin Next Gen Award and the Salzman Memorial Award in Virology. Dr. Corbett invests much of her time in underserved communities as an advocate for STEM education and vaccine awareness.