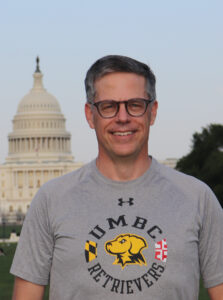 GRADUATE HONORARY DEGREE RECIPIENT
Mark Doms '86
Chief Economist, Congressional Budget Office
Mark Doms is an economist whose career has focused on public policy while serving in the Federal Reserve system, the executive branch, and the legislative branch. With the help of numerous, outstanding faculty, Doms graduated from UMBC with a degree in mathematics and economics in 1986.  Doms then earned a Ph.D. in economics from the University of Wisconsin-Madison.
After completing his Ph.D., Doms spent two years at the Organization of Economic Cooperation and Development in Paris, France. Returning to the US, Doms then worked at the Board of Governors of the Federal Reserve in Washington DC, regularly briefing the Chair and Governors on economic conditions and special topics. In 2002, Doms transferred to the Federal Reserve in San Francisco, where he continued his research and followed the US economy.
In 2009, Doms joined the Obama administration as Chief Economist at the Department of Commerce where he advised the administration on a wide variety of issues, including trade, competitiveness, innovation, and education. In January 2013, the US Senate confirmed Doms as Under Secretary for Economic Affairs at the Department of Commerce, a position that oversaw the Census Bureau and the Bureau of Economic Analysis, comprising over 10,000 staff and budgets exceeding $1 billion.
Continuing his commitment to public service, Doms currently serves as the Chief Economist at the Congressional Budget Office, helping lead a fabulous team that provides high-quality, non-partisan analysis to Congress.  He always remains thankful for the wonderful (and affordable) education that UMBC provided.