Graduate School's Commencement Speaker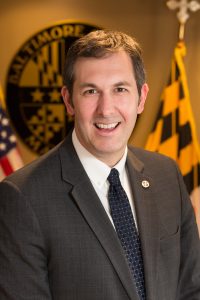 The Honorable John A. Olszewski, Jr., Ph.D. '17
Baltimore County Executive
John "Johnny O" Olszewski, Jr. is a lifelong Baltimore County resident who believes in the power of public service and giving back to a community that has done so much for him. He is a graduate of Sparrows Point High School, who earned his undergraduate degree from Goucher College, a master's degree from The George Washington University, and his Ph.D. in Public Policy from the University of Maryland Baltimore County.
After college, Johnny returned to his community to teach social studies and special education at Patapsco High School. In 2006, Johnny was elected to the Maryland House of Delegates at age 23, where served for nearly nine years. His work earned him a reputation as a "rising star" of Maryland politics. While serving in the General Assembly, he led the charge to enact paid sick leave for Marylander workers and spearheaded innovative workforce training legislation. In the legislature, Johnny served as the Chairman of the Baltimore County House Delegation and was the youngest person ever elected to that position. In that capacity, he helped lead unprecedented progress for Baltimore County in areas such as economic development and school board reform.
Before his election to Baltimore County Executive, Johnny worked in the private sector at SAS Institute, where he partnered with governments to help prevent fraud, enhance public safety, and enable greater transparency.
Johnny lives in Dundalk with his wife, Marisa, and their daughter, Daria. The Olszewski family is active in their church and maintains strong ties as volunteers across Baltimore County.